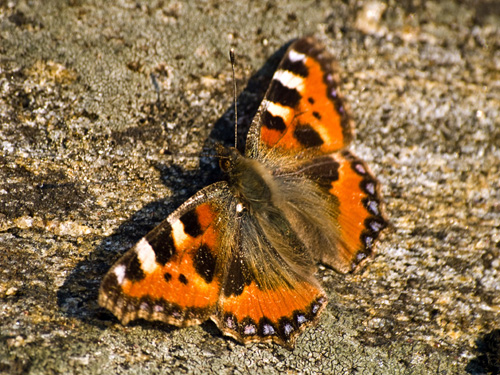 Taken with Olympus E500 digital camera April 30th 2008. Click image for larger view.
Small Tortoiseshell (Nymphalis urticae) butterflies has awaken from their winter hibernation and are flying around in the warm sunshine. Small Tortoiseshell is the first "day butterfly" that one can see here in Northern Norway in the spring, often on the first warm day.
They are really beautiful, don't you think?
The Norwegian name for the Small Tortoiseshell is "Neslesommerfugl" which means Nettle Butterfly in English. The butterfly got that name because they lay eggs on nettle plants and their larvae eats nettle leaves. I have seen nettles completely covered with black Small Tortoiseshell larvae.
Check out my other insect photos here.

Information about the picture:
Camera: Olympus E-500 digital SLR camera
Exposure: 0.004 sec (1/250)
Aperture: f/7.1
Focal Length: 300 mm
ISO Speed: 200
Lens: Olympus Zuiko Digital 70-300mm F4.0-5.6
Location: Laupstad (Andørja), Troms in Northern Norway