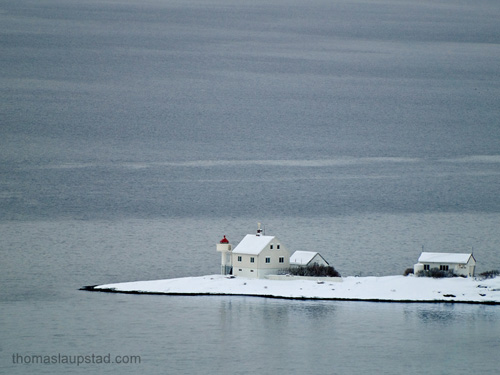 Taken with Olympus E500 digital camera February 8th 2009. Click image for larger view.
Here I have photographed a lighthouse on a snow covered headland. This lighthouse is placed in Oslofjorden in southeastern part of Norway and help with keeping the ship traffic in the fjord safe.
I liked the lonely location of the lighthouse and the other buildings on the headland. Doesn't it look like a great place to live?
The photo was taken with at 300mm (about 600mm in 35mm terms) with a telephoto lens so it was pretty far away from my location.
Check out my other picture of a wave crashing over a small headland in Northern Norway.

Information about the picture:
Camera: Olympus E-500 digital SLR camera
Exposure: 0.002 sec (1/500)
Aperture: f/5.6
Focal Length: 300 mm
ISO Speed: 200
Lens: Olympus Zuiko Digital 70-300mm F4.0-5.6
Location: Fjellstrand in Nesodden, Akershus in southeast of Norway