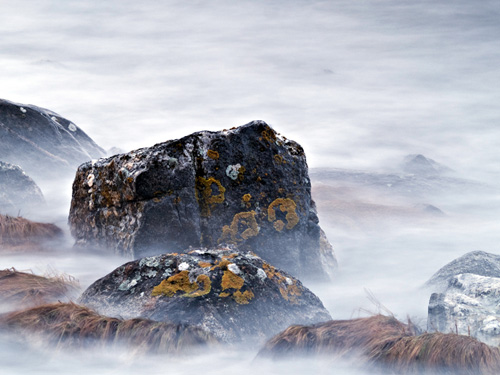 Taken with Olympus E500 digital camera December 25th 2007. Click image for larger view.
I photographed these lichen covered rocks when the tide was very high. Usually the sea doesn't reach this high, but the lichen must be somewhat resistant to the saltwater to survive the waves.
I really love the texture and formations the lichen create on rocks.
For new readers: The foggy effect was created by using a 20 seconds long exposure of the moving water.
Check out this macro photo of a water drop with lichen as a background.

Information about the picture:
Camera: Olympus E-500 digital SLR camera
Exposure: 20 sec (20)
Aperture: f/10
Focal Length: 68 mm
ISO Speed: 100
Lens: Olympus Zuiko Digital 40-150mm F3.5-4.5
Location: Laupstad (Andørja), Troms in northern Norway