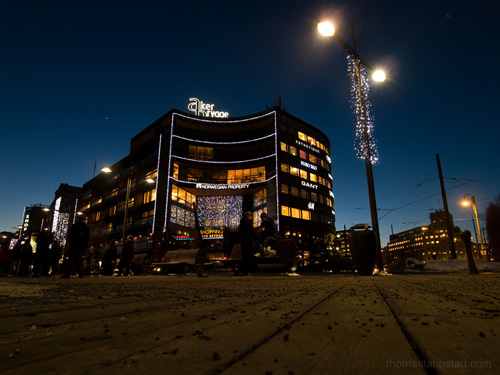 Taken with Olympus E500 digital camera February 26th 2009. Click image for larger view.
Aker Brygge is an area in Oslo by the sea. It consists of shopping centers, offices and expensive apartments. Aker Brygge is known to be a pricey place even for us Norwegians.
Every time I go to Oslo I visit Aker Brygge as the ferry from Nesodden (where I live) to Oslo ends up at Aker Brygge.
In this picture I have photographed the main entrance of one of the shopping centers at Aker Brygge. I really enjoyed the blue tones of the evening behind the building and I liked the special perspective you get when you put the camera on the ground with all the pebbles and planks. If you click on the picture and view it large you can see some of the people walking by.
Follow me on Twitter: http://twitter.com/jungl

Information about the picture:
Camera: Olympus E-500 digital SLR camera
Exposure: 0.8
Aperture: f/5.6
Focal Length: 11 mm
ISO Speed: 100
Lens: Olympus Zuiko Digital 11-22mm F2.8-3.5
Location: Aker Brygge, Oslo in southeast of Norway