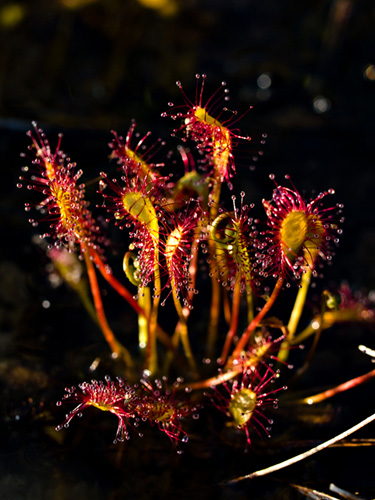 Taken with Olympus E500 digital camera July 4th 2007. Click image for larger view.
In this macro photo you see the carnivorous plant sundew. This specific specie is known as Great sundew or English sundew (Drosera anglica).
The sundew plants catch and eat insects to supplement their diet. The sticky drops on the leaves attract insects and when they land the sundew plants close their leaves so the insects can't escape.
Information about the picture:
Camera: Olympus E-500 digital SLR camera
Exposure: 0.01 sec (1/100)
Aperture: f/5
Focal Length: 35 mm
ISO Speed: 200
Lens: Olympus Zuiko Digital 35mm F3.5 Macro
Location: Ånstadbotn (Andørja), Troms in northern Norway