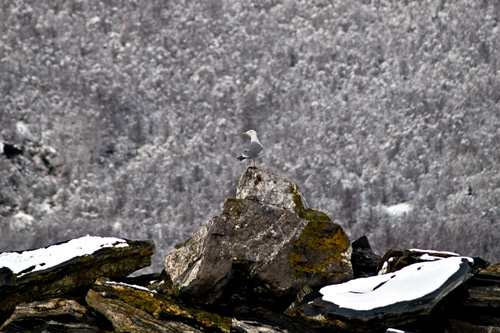 Taken with Olympus E500 digital camera March 17th 2008. Click image for larger view.
I was out rowing, for the first time this year, when I saw this herring gull (Larus argentatus) standing on a seawall. Had to take a picture of the seagull with the snow covered forest as background.
Let me tell you that it is not particularly easy to take photos from a small and rocky rowboat. Especially when you are trying to zoom in on a bird.
Here is another picture of the seawall.

Information about the picture:
Camera: Olympus E-500 digital SLR camera
Exposure: 0.001 sec (1/800)
Aperture: f/4.5
Focal Length: 150 mm
ISO Speed: 400
Lens: Olympus Zuiko Digital 40-150mm F3.5-4.5
Location: Laupstad (Andørja), Troms in Northern Norway