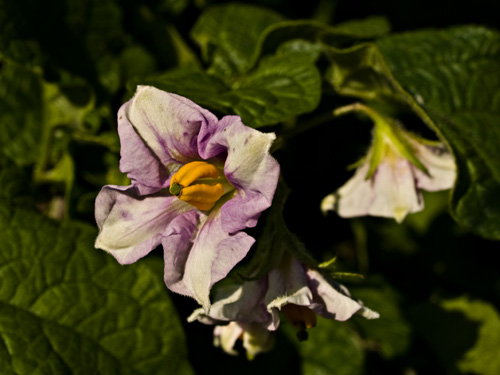 Taken with Olympus E500 digital camera on August 8th, 2007. Click picture for larger view.
In this photo you can see that my potato plants (Solanum tuberosum) have started to flower. These flowers are of a Norwegian potato species called Troll. When the potato plants start flowering you know that they are soon ready for harvest. I can't wait to start digging up the potatoes and serve them with fresh fish that I have caught in the sea! Nothing taste better than food you have produced or caught yourself.
When I was studying the potato flower I noticed that they look very similar to tomato flowers. It's not so weird since they are both in the Solanaceae family, but I have never noticed the similarity before.
Anyone else growing their own vegetables?
Information about the picture:
Camera: Olympus E-500 digital SLR camera
Exposure: 0.008 sec (1/125)
Aperture: f/11
Focal Length: 35 mm
ISO Speed: 100
Lens: Olympus Zuiko Digital 35mm F3.5 Macro
Location: Laupstad (Andørja), Troms in northern Norway