Here is a video of a pack (or packs) of Killer whales (Orcinus orca) hunting fish extremely close to the shore at Senja in Northern Norway. We saw 25 whales or more in this small cove, and they were all hunting herring. The next day we even saw a few Killer whales that almost stranded on a sandy beach, but they rolled back out into the sea.
We even saw some other larger species of whales further out at the sea, but due to low light it was not possible to make out the species of whale. There has been lots of observations of whales hunting herring in Northern Norway at places such as Senja, Andenes and islands by Tromsø. If you get the chance you would definitely go on a whale safari to watch these magnificent creatures.
Please see my other pictures of Senja here and follow Photos from Northern Norway on Facebook.
Information about the video:
Camera: Apple iPhone 5
Location: Close to Hamn at Senja, Troms in Northern Norway
Here is a phone camera picture of one of the killer whales: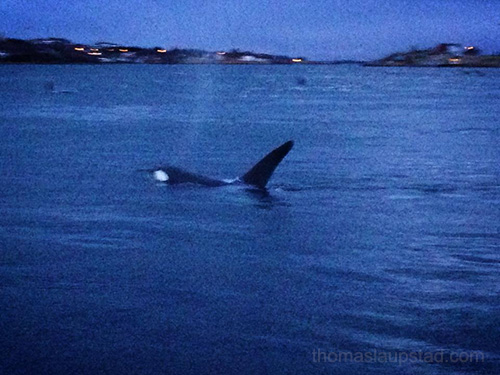 Taken with Apple iPhone 5 camera 25th December 2013.