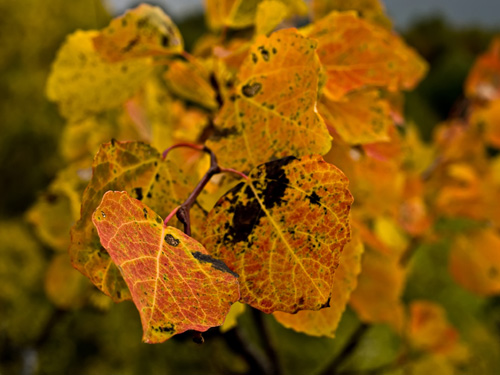 Taken with Olympus E500 digital camera September 16th 2007. Click image for larger view.
The forest colors are changing fast in the autumn. One of the most beautiful sights are that of aspen trees (Populus tremula) with their staggering yellow and red colors.
In this close up photo of some aspen leaves, you can see the leaves in the process of changing color from yellow to red.
See this blog post for more pictures of autumn colors.
Information about the picture:
Camera: Olympus E-500 digital SLR camera
Exposure: 0.01 sec (1/100)
Aperture: f/7.1
Focal Length: 35 mm
ISO Speed: 200
Lens: Olympus Zuiko Digital 35mm F3.5 Macro
Location: Nygård (Andørja), Troms in northern Norway