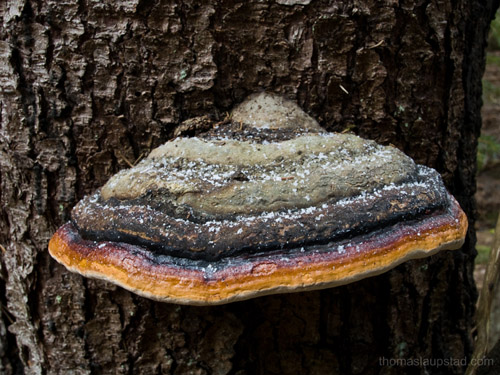 Taken with Olympus E500 digital camera January 1st 2009. Click image for larger view.
Here I have photographed a Red Banded Polypore mushroom (Fomitopsis pinicola) growing on a dead Norway spruce trunk. The colored bands around the mushroom made me stop and take a better look. The bands are really beautiful, aren't they? Also notice the white snow crystals on top of the mushroom. It was pretty darn cold!
The Red Banded Polypore is a common polypore mushroom in the temperate Northern hemisphere. These kind of mushrooms are often found on rotting lodges and they have a distinctive look.
Check out this photo to see the whole tree that were broken in two. You can also check out my other mushroom pictures here.

Information about the picture:
Camera: Olympus E-500 digital SLR camera
Exposure: 1.6 sec (8/5)
Aperture: f/11
Focal Length: 22 mm
ISO Speed: 100
Lens: Olympus Zuiko Digital 11-22mm F2.8-3.5
Location: Fjellstrand in Nesodden, Akershus in southeast of Norway