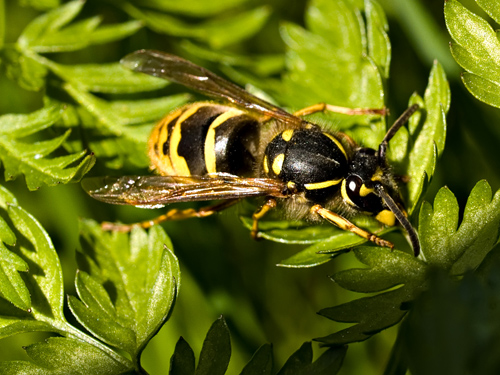 Taken with Olympus E500 digital camera on June 6th, 2007. Click image for larger view.
This is a picture of a Common Wasp (Vespula vulgaris). Please correct me if I'm wrong about the species. The species "Norwegian Wasp" looks similar so I'm not 100% sure.
I'm not a big fan of these stingy creatures, but after taking this picture my fear for wasps is getting a little cured. You see the macro lens I'm using has a focal of 35mm and that means I have to get very close to the subject to get a macro photo. The wasp did not seem to care about me at all so no harm done.
Information about the picture:
Camera: Olympus E-500 digital single-lens reflex camera
Exposure: 0.005 sec (1/200)
Aperture: f/5.6
Focal Length: 35 mm
ISO Speed: 200
Lens: Olympus Zuiko Digital 35mm F3.5 Macro
Location: Harstad, Troms in northern Norway