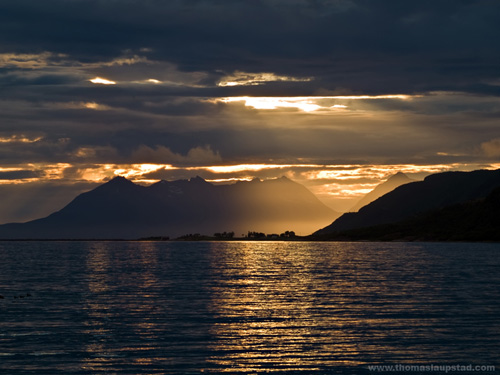 Taken with Olympus E500 digital camera June 29th 2008. Click image for larger view.
In this picture I have captured what was a fantastic midnight sunset here in Northern Norway. The sunset created some incredible light where this village in the sea was bathed in a beam of sunshine. The picture should be looked at in large size to get a better view of the sunset.
The midnight sun is already gone (I can't believe how fast this summer has passed), but the nights are still very light if the rain clouds could stay away.
The distant village is called Laupstad and is the place where I grew up (hence my last name Laupstad). The mountains in the background is a part of the second largest island in Norway, Senja.
I have photographed the same village from above in this picture and in this picture you can see the village with a some pink sunset-clouds as background at 01:30 AM.

Information about the picture:
Camera: Olympus E-500 digital SLR camera
Exposure: 0.008 sec (1/125)
Aperture: f/7.1
Focal Length: 89 mm
ISO Speed: 100
Lens: Olympus Zuiko Digital 70-300mm F4.0-5.6
Location: From Ånstad viewing Laupstad (Andørja) with Senja in the background, Troms in Northern Norway