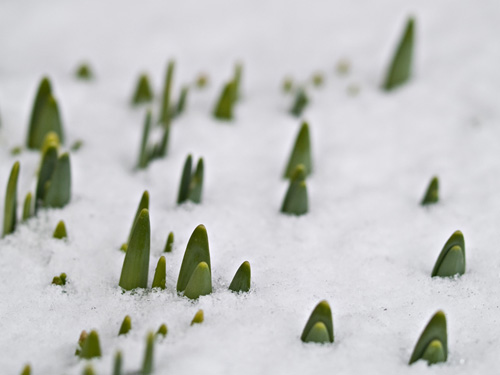 Taken with Olympus E500 digital camera February 25th 2008. Click image for larger view.
The Wild daffodil (Narcissus pseudonarcissus) have been sprouting as early as mid January this year. This is extremely early for us in Northern Norway. Although we have had frost, snow and thawing several times the Wild daffodil can handle extreme conditions very good so I think these sprouts will survive.
In Norwegian this plant is called "PÃ¥skelilje" (Easter lily) because it usually show us its beautiful yellow flowers around Easter.
Yesterday I heard a meteorologist saying that so far this have been warmest winter ever recorded in Norway. I know that doesn't prove anything, but it sure smells like global warming…
I can't wait for the spring to come so I can photograph the flowers in full bloom. Meanwhile you can see some of my flower pictures from last year here. If I had to choose the picture of the Purple Saxifrage flower are my favorite because they were the first wild flowers I saw last spring.

Information about the picture:
Camera: Olympus E-500 digital SLR camera
Exposure: 0.013 sec (1/80)
Aperture: f/3.5
Focal Length: 35 mm
ISO Speed: 200
Lens: Olympus Zuiko Digital 35mm F3.5 Macro
Location: Laupstad (Andørja), Troms in northern Norway