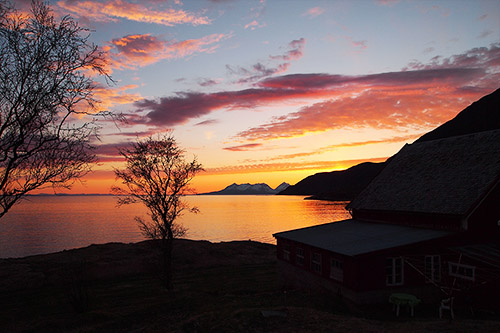 Taken with Olympus EPL-1 digital camera September 19th May 2013. Click image for larger view.
I went for a spring trip to Northern Norway this year, and oh my did it pay off. The weather has been fantastic with temperatures well above 20 degree Celsius, something that is unusual this early in the year.
In the picture above I have photographed the view from my bedroom at midnight on the 19th of May. It is about this time we get midnight sun, but the sun went behind the mountains. Nevertheless, the view was spectacular and making it hard to go to sleep.
The mountains that you see far in the horizon is the second largest island in Norway, Senja. Please click on the photo to view it in larger size.
Spring is such a wonderful time in the north with all the birds coming back, flowers are popping up everywhere and the boat is finally back on the water. I think I need to take a week off every year to visit the old house on Andørja.
Like this photo? Please follow Photos from Northern Norway on Facebook
.

Information about the picture:
Camera: Olympus EPL-1 digital camera
Exposure 0.005 sec (1/200)
Aperture f/5.6
Focal Length 14 mm
ISO Speed 200
Lens: OLYMPUS M.14-42mm F3.5-5.6 L
Location: Laupstad (Andørja), Troms in Northern Norway