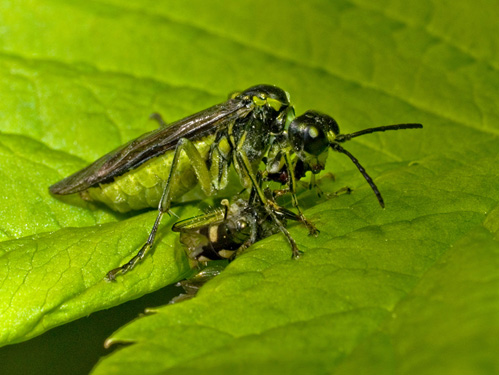 Taken with Olympus E500 digital camera on June 24th, 2007. Click image for larger view.
This is some kind of sawfly (Symphyta) feeding on a fly. Please let me know if anyone know the species.
I captured this the same day as I took the photos of two dance fly mating and eating. Check out that blog post here. Macro photographing is so entertaining because you get to see real drama in the world of insects.
Feel free to check out my other insect photos.
Information about the picture:
Camera: Olympus E-500 digital SLR camera
Exposure: 0.006 sec (1/160)
Aperture: f/13
ISO Speed: 100
Lens: Olympus Zuiko Digital 35mm F3.5 Macro
Location: Laupstad (Andørja), Troms in northern Norway