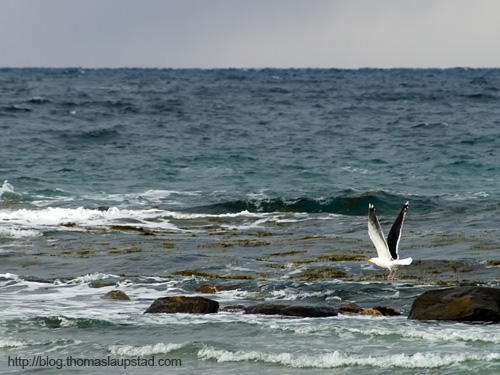 Taken with Olympus E-500 digital camera April 6th 2007. Click image for larger view.
I captured this great black-backed seagull taking flight back in April. Really enjoyed the color and textures of the ocean. In the horizon you can see snow clouds bringing in a blizzard that are so common here in northern Norway when we have winter.
Check out this close up photo of the great black-backed seagull if you want to see better what this cool bird looks like.
Information about the picture:
Camera: Olympus E-500 digital SLR camera
Exposure: 0.004 sec (1/250)
Aperture: f/5
Focal Length: 150 mm
ISO Speed: 100
Lens: Olympus Zuiko Digital 40-150mm F3.5-4.5
Location: Ånstad, Andørja (Ibestad) in northern Norway