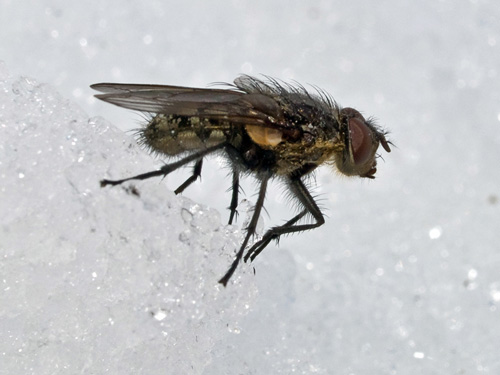 Taken with Olympus E500 digital camera March 10th 2008. Click image for larger view.
We have had a couple of warm days here in Northern Norway and a few insects have been waking up from their hibernation. In this picture you can see a common housefly (Musca domestica) sitting on some snow. Usually these flies are very hard to get close enough to get a good macro shot, but I guess the cold from the snow made this fly move slowly.
I can't wait for all the insects to come back so I can start taking tons of macro photos.
Check out some macro pictures of flies from last year:
–Dance fly couple mating and eating a fly
–Hoverfly on a poppy flower

Information about the picture:
Camera: Olympus E-500 digital SLR camera
Exposure: 0.013 sec (1/80)
Aperture: f/11
Focal Length: 35 mm
ISO Speed: 100
Lens: Olympus Zuiko Digital 35mm F3.5 Macro
Location: Laupstad (Andørja), Troms in northern Norway