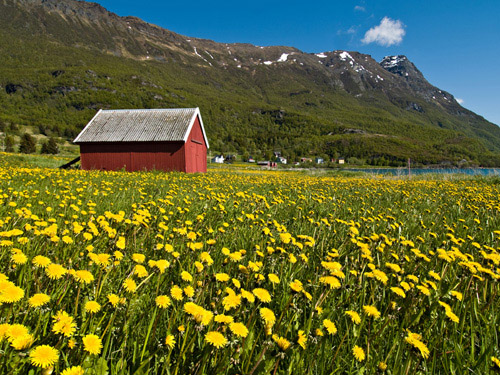 Taken with Olympus E500 digital camera June 8th 2008. Click image for larger view.
I love the short period when every dandelion plant seems to flower at the exact same time. A field full of yellow flowers on a sunny day is a beautiful sight so I could not resist taking out the camera to snap some pictures. Since I'm a big fan of photographing boatsheds I had to make a composition with a shed in the picture.
As you can see there is still some snow in the mountains here in Northern Norway, but the green color is creeping pretty fast upward to the top of the mountains. Maybe it is time to go for a photo-hike up those mountainsides?
Check out a few shots of grass fields from last summer:
–Taking pictures while laying in a buttercup meadow
–Photo of old fence keeping out hordes of yellow flowers

Information about the picture:
Camera: Olympus E-500 digital SLR camera
Exposure: 0.008 sec (1/125)
Aperture: f/11
Focal Length: 11 mm
ISO Speed: 100
Lens: Olympus Zuiko Digital 11-22mm F2.8-3.5
Location: Laupstad (Andørja), Troms in Northern Norway