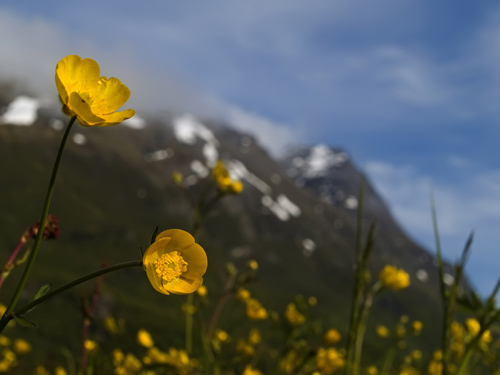 Taken with Olympus E500 digital camera on June 9th, 2007. Click image for larger view.
Summer is here!! What is better than laying down in a meadow full of buttercups and just listen to the birds chirping, the insects buzzing and the occasional sound of my shutter taking a photo.
I'm planing on trekking the mountains you see in the background of this photo and I will of course bring my camera so stay tuned. Up there you get a fantastic view of many of the neighbor islands and the Atlantic ocean.
Information about the picture:
Camera: Olympus E-500 digital single-lens reflex camera
Exposure: 0.008 sec (1/125)
Aperture: f/11
Focal Length: 35 mm
ISO Speed: 100
Lens: Olympus Zuiko Digital 35mm F3.5 Macro
Location: Laupstad, Andørja (Ibestad, Troms) in northern Norway