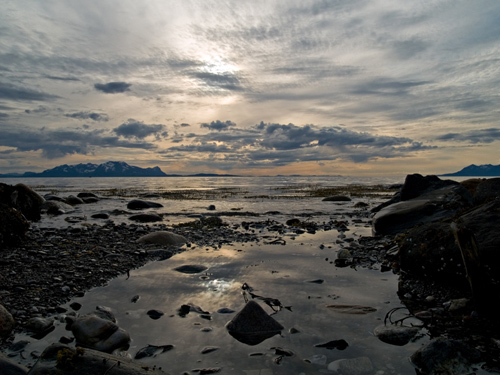 Taken with Olympus E500 digital camera on June 22nd 2007. Click image for larger view.
What beautiful and warm day here at the coast in northern Norway. I really like it when it's 20C and slightly overcast. Anything warmer get to hot for my arctic body 🙂
Here I'm crawling between pebbles trying to make a good composition at ground level while not getting too wet from water seeping in from the ocean. When I take pictures I always think "How can I make this scene/subject more interesting" thus I often find myself in back-breaking positions.
What are your opinions on this photo?

Information about the picture:
Camera: Olympus E-500 digital single-lens reflex camera
Exposure: 0.003 sec (1/320)
Aperture: f/11
Focal Length: 14 mm
ISO Speed: 100
Lens: Olympus Zuiko Digital 14-45mm F3.5-5.6
Location: Laupstad, Andørja (Ibestad) in northern Norway