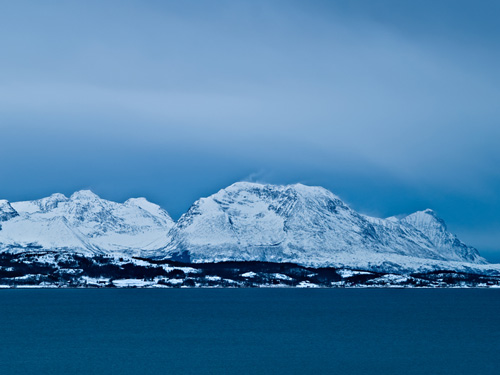 Taken with Olympus E500 digital camera November 28th 2007. Click image for larger view.
The dark season is definitely here with very little light during the day. The weather has been mostly boring with overcast almost every day, but on this day the sky was clear. There was some nice blue tones to be seen such as in this picture.
If you look at the photo in large format you can see the wind blowing snow off the mountain peaks. Must be extremely cold on top of those mountains (they are located on an island called Grytøya) 😉
You can see the same mountains here, but in an early spring scene.

Information about the picture:
Camera: Olympus E-500 digital SLR camera
Exposure: 0.25 sec (1/4)
Aperture: f/11
Focal Length: 92 mm
ISO Speed: 100
Lens: Olympus Zuiko Digital 40-150mm F3.5-4.5
Location: From Ånstad (Andørja) viewing Grytøya, Troms in northern Norway