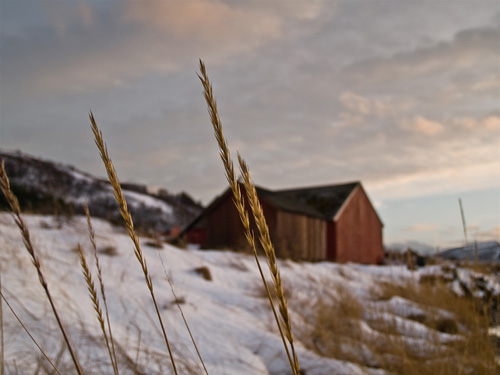 Taken with Olympus E500 digital camera February 22nd 2008. Click image for larger view.
In this picture you can see some straws growing at the coast in Northern Norway. I love the texture of this kind of straws so I thought they would look great together with the old boathouses.
I wanted to get the boathouses a bit out of focus so I pushed the aperture down f/3.5 and focused on the grass straws to get the depth of field that I thought would suit the composition.
Check out my other boathouse pictures here. I'm starting to get a nice collection of boathouse photos 🙂

Information about the picture:
Camera: Olympus E-500 digital SLR camera
Exposure: 0.002 sec (1/500)
Aperture: f/3.5
Focal Length: 22 mm
ISO Speed: 100
Lens: Olympus Zuiko Digital 11-22mm F2.8-3.5
Location: Ånstad (Andørja), Troms in Northern Norway