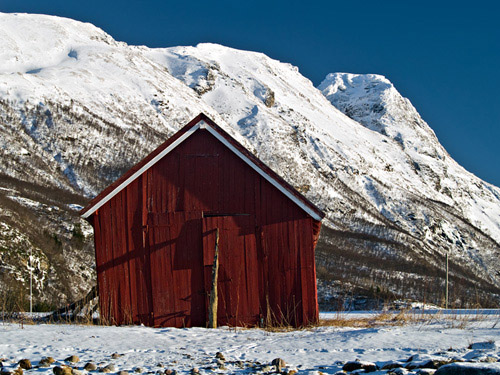 Taken with Olympus E500 digital camera March 1st 2008. Click image for larger view.
In this picture you can see the family boatshed with some snow covered mountains as background.
You can tell from the battered look that the boatshed have endured countless of harsh storms. It's tilting a bit to left because of some extreme storms a few years ago that moved the boatshed a good 40 cm (16 inch) from the foundation. I hope it wont fall down over my boat 😉
The tallest mountain in the background is called Åtinden and is about 1000 meters above sea level.
Check out this photo of a decayed boathouse that is about to fall down.

Information about the picture:
Camera: Olympus E-500 digital SLR camera
Exposure: 0.008 sec (1/125)
Aperture: f/5
Focal Length: 150 mm
ISO Speed: 100
Lens: Olympus Zuiko Digital 40-150mm F3.5-4.5
Polarizer filter used
Location: Laupstad (Andørja), Troms in Northern Norway