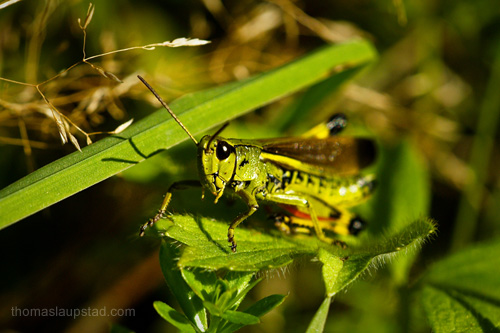 Taken with Olympus E500 digital camera September 6th 2010. Click image for larger view.
After moving to the south of Norway I have discovered many new species of insects that I have never seen in Northern Norway. In this photograph I have found one of these new species. This is a Large marsh grasshopper (Stethophyma grossum) that is quite common around my house. It is the largest Acrididae in Norway and can be quite a sight with its up to 37mm long. This grasshopper is often found in wet grasslands and and close to beaches. Since I live to close to wet areas we have lots of grasshoppers around our house, during the summer, making a constant buzz. Our chickens love to feed on grasshoppers so maybe they taste good?
There is about 30 species of grasshoppers in Norway and I hope I can photograph more species next summer.
Check out my other insect pictures here.

Information about the picture:
Camera: Olympus E-500 digital SLR camera
Exposure 0.002 sec (1/640)
Aperture f/6.3
Focal Length 150 mm
ISO Speed 400
Lens: Sigma 150mm F2.8 EX APO DG HSM Macro
Location: Fjellstrand in Nesodden, Akershus in southeast of Norway