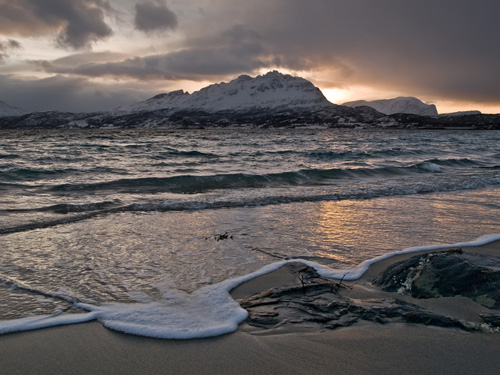 Taken with Olympus E500 digital camera February 3rd 2008. Click image for larger view.
I was taking a walk on the beach when suddenly the sun created some nice light behind the mountains. There was also some reflections in the windy ocean so I had to get down on my knees to take a picture.
The foam and rocks in the foreground makes the composition more interesting to me.
See more winter pictures from Northern Norway here.

Information about the picture:
Camera: Olympus E-500 digital SLR camera
Exposure: 0.013 sec (1/80)
Aperture: f/8
Focal Length: 18 mm
ISO Speed: 100
Lens: Olympus Zuiko Digital 11-22mm F2.8-3.5
Location: Laupstad (Andørja) looking at Drangen, Troms in northern Norway