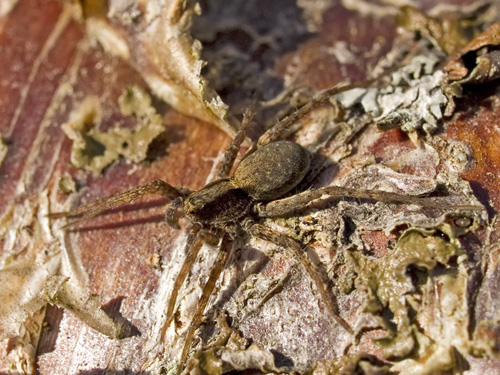 Taken with Olympus E500 digital camera April 19th 2007. Click image for larger view.
In this macro photo you can see a wolf spider (Lycosidae). The wolf spiders got their name from the way they hunt as they run down their prey much like wolves do.
It is usually very hard to get close to wolf spiders to get a picture, but this photo was taken back in April when there was still patches of snow here in northern Norway. This spider was warming itself in the sun and didn't care about me coming very close with my camera.
Please at the picture in large size to get a view of all the details of the wolf spider.
I don't have many pictures of spiders, but I have one of an ant dragging a spider. Check it out if you are interested in insect photography.
Information about the picture:
Camera: Olympus E-500 digital SLR camera
Exposure: 0.003 sec (1/320)
Aperture: f/6.3
Focal Length: 35 mm
ISO Speed: 200
Lens: Olympus Zuiko Digital 35mm F3.5 Macro
Location: Laupstad (Andørja), Troms in northern Norway