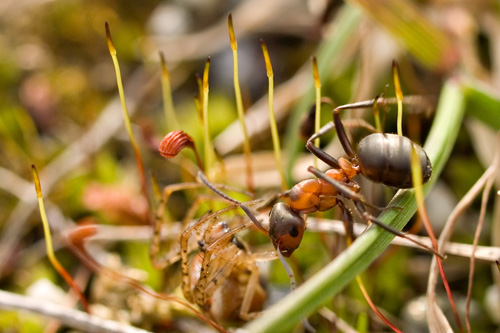 Taken 6th May, 2007. Click image for larger view.
As I have said before, macro photography is so much fun and a real challenge when you try to capture moving insects.
I believe the ant is some kind of wood ant (Formica rufa), but I have no idea what species the spider is.
I bet some of my readers have the knowledge. Feel free to write a comment with the information about species as I always love to learn new stuff about the nature.
Information about the picture:
Camera: Olympus E-500 digital single-lens reflex camera
Exposure: 0.008 sec (1/125)
Aperture: f/4.5
Focal Length: 35 mm
ISO Speed: 200
Lens: Olympus Zuiko Digital 35mm F3.5 Macro
Location: Laupstad, Andørja (Ibestad, Troms) in northern Norway