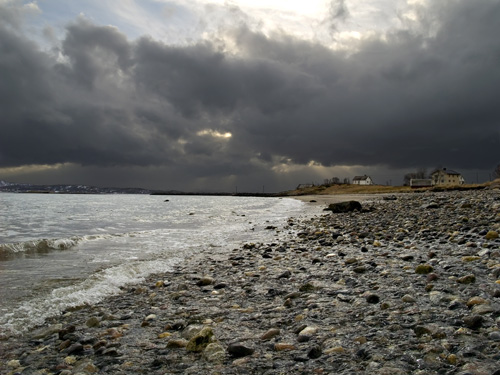 Taken with Olympus E-500 digital camera April 13th 2007. Click image for larger view.
This is a very popular beach in the summer with people coming from all the small villages on Andørja. You can see the sandy part below the white house.
I made this shot because of the dramatic clouds and light streaming through from the sun.
As you can see I'm standing in a river. The combined sound of a river and waves hitting the shore is very nice!
Information about the picture:
Camera: Olympus E-500 digital single-lens reflex camera
Exposure: 0.003 sec (1/320)
Aperture: f/11
Focal Length: 16 mm
ISO Speed: 200
Lens: Olympus Zuiko Digital 14-45mm F3.5-5.6
Location: Laupstad, Andørja (Ibestad) in northern Norway