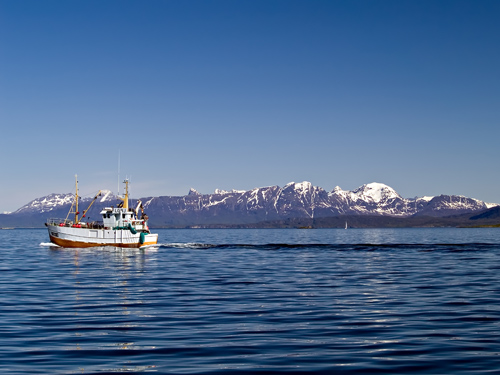 Taken with Olympus E500 digital camera on June 1st 2007. Click image for larger view.
I find these old fishing boats made of tree very beautiful. Hope to own one myself some day..
Maybe you wont believe me, but I'm standing on a pier with the pretty large town Harstad right behind me. This scenery doesn't look very urban, does it?
I was staying in Harstad for 3 weeks attending a course and had a real hard time finding things to take photos of. I'm glad to be back home where there are more nature to walk around in 🙂
The mountains in the back are from the islands Rolløya and Andørja (where I live).
Information about the picture:
Camera: Olympus E-500 digital single-lens reflex camera
Exposure: 0.004 sec (1/250)
Aperture: f/5.6
Focal Length: 40 mm
ISO Speed: 100
Lens: Olympus Zuiko Digital 40-150mm F3.5-4.5
Filter: Circular polarizer
Location: Harstad in northern Norway