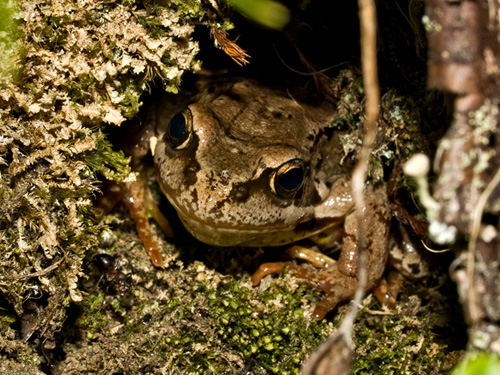 Taken with Olympus E500 digital camera on July 15th, 2007. Click picture for larger view.
This is a close up photo of a common frog (Rana temporaria) being very camera shy. I found the frog pretty far up in the mountains and I was surprised because I have never seen frogs in this area before.
Frogs are supposed to be an biological indicator that are able to tell us whether the environment is healthy or unhealthy. The reason for this is that frogs are very sensitive to pollution and habitat degradation.
I'm very happy that I found this frog because it means the nature around here is healthy 🙂
If you view the picture large you can actually see an ant below the frog on left side. Maybe it was the frogs next meal?
Information about the picture:
Camera: Olympus E-500 digital SLR camera
Exposure: 0.006 sec (1/160)
Aperture: f/11
Focal Length: 35 mm
ISO Speed: 100
Lens: Olympus Zuiko Digital 35mm F3.5 Macro
Flash used
Location: Laupstad (Andørja), Troms in northern Norway