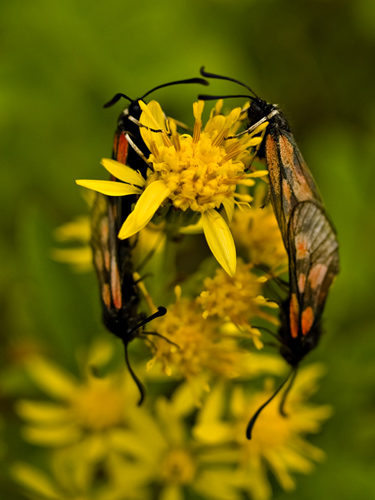 Taken with Olympus E500 digital camera on July 16th, 2007. Click picture for larger view.
In this picture I believe you can see some five-spot burnets (Zygaena trifolii) mating, but it could also be the similar six-spot burnet (Zygaena filipendulae) because the spots can be merged. If anyone is an expert on this please let me know by leaving a comment. I would also like to know what the flowers are called.
Anyways. It looks like the insects are having a really good time 😉
Check out my other insect photos.
Information about the picture:
Camera: Olympus E-500 digital SLR camera
Exposure: 0.005 sec (1/200)
Aperture: f/3.5
Focal Length: 35 mm
ISO Speed: 200
Lens: Olympus Zuiko Digital 35mm F3.5 Macro
Location: Laupstad (Andørja), Troms in northern Norway