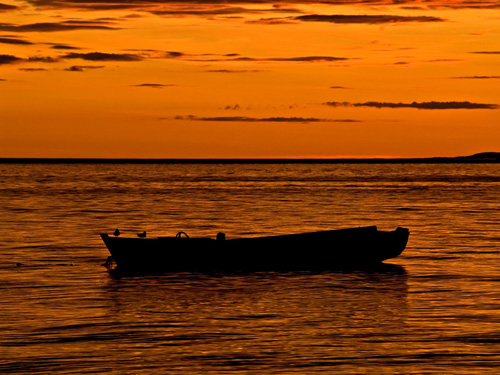 Taken with Olympus E500 digital camera on July 30th 2007. Click image for larger view.
Last night I was out on the beach late at night taking pictures of the sunset. A tern couple landed on this old rowboat so had to take a picture of it against the beautiful sunset.
The sun is not up 24/7 anymore (though it's still light 24/7) so there will be some incredible sunsets in the months to come. Hope my readers doesn't get tired of sunset pictures 🙂
Follow Photos from Northern Norway on Facebook and see other sunset picture here.
Information about the picture:
Camera: Olympus E-500 digital SLR camera
Exposure: 0.025 sec (1/40)
Aperture: f/11
Focal Length: 150 mm
ISO Speed: 100
Lens: Olympus Zuiko Digital 40-150mm F3.5-4.5
Location: Ånstad, Andørja (Ibestad) in northern Norway