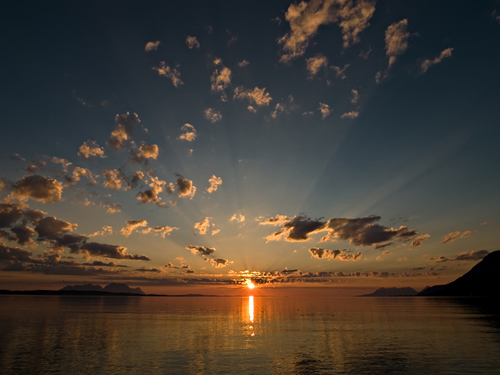 Taken with Olympus E500 digital camera on August 8th 2007. Click image for larger view.
We had a fantastic sunset today so I had to run down on the beach to capture a picture of the moment.
Been a very hot and nice summer day so this sunset was a perfect end to it.
I'm painting the outside of a house so the warmth can get a little too much, but I'm glad I can work outside and not be stuck in an office or something 😉
Check out other sunset pictures from Northern Norway here.
Information about the picture:
Camera: Olympus E-500 digital SLR camera
Exposure: 0.008 sec (1/125)
Aperture: f/11
Focal Length: 11 mm
Lens: Olympus Zuiko Digital 11-22mm F2.8-3.5
Location: Ånstad, Andørja (Ibestad) in northern Norway
Like the picture? Please make a donation to support the site.