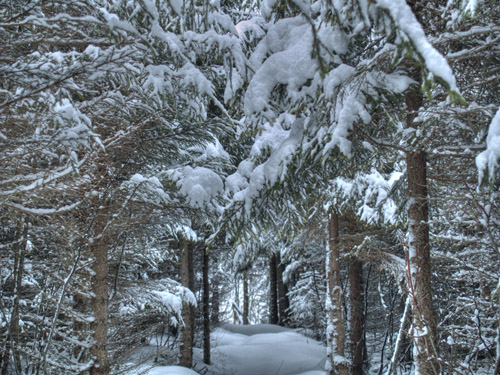 Taken with Olympus E500 digital camera on February 10th, 2007. Click picture for larger view.
Took this picture back in February when the forest was filled with snow. I think the scene looks like it is taken straight out of "The Chronicles of Narnia" with all the snow hanging on the Norway Spruce.
This place can be quite spooky in the summer as the trees make a very dark passage in the forest.
Follow Photos from Northern Norway on Facebook.
Information about the picture:
Camera: Olympus E-500 digital SLR camera
Exposure: 0.167 sec (1/6)
Aperture: f/5.6
Focal Length: 45 mm
ISO Speed: 100
Lens: Olympus Zuiko Digital 14-45mm F3.5-5.6
Location: Laupstad (Andørja), Troms in northern Norway