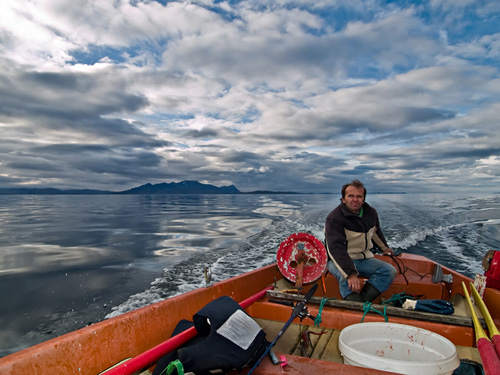 Taken with Olympus E500 digital camera September 22nd 2007. Click image for larger view.
What a wonderful day it was to be out on the sea here in northern Norway. The sea was completely calm and the clouds was amazing so a perfect day for a fishing trip. In this photo you can see my uncle steering my boat to the fishing grounds. Did not catch much fish, but it was a very nice trip on the fjord.
Is it just me or are the clouds and the reflection in the calm sea just down right beautiful?
Information about the picture:
Camera: Olympus E-500 digital SLR camera
Exposure: 0.006 sec (1/160)
Aperture: f/7.1
Focal Length: 11 mm
ISO Speed: 100
Lens: Olympus Zuiko Digital 11-22mm F2.8-3.5
Flash fired
Location: Out on the ocean close to Laupstad, Andørja (Ibestad) in northern Norway