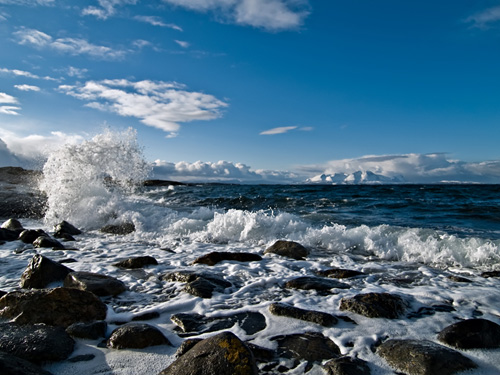 Taken with Olympus E500 digital camera October 11th 2007. Click image for larger view.
The winter has come to northern Norway as you can see by the snow covered mountains in this picture. The snow comes from the north in "waves" and I was able to do some photographing in between all the snow.
I love photos of moving water so had a great time standing at the shore trying to capture the waves as they came crashing in.
Loved the splash in this picture.
Information about the picture:
Olympus E-500 digital SLR camera
Exposure: 1/2500 sec
Aperture: f/2.8
Focal Length: 11 mm
ISO Speed: 100
Lens: Olympus Zuiko Digital 11-22mm F2.8-3.5
Location: Laupstad (Andørja), Troms in northern Norway