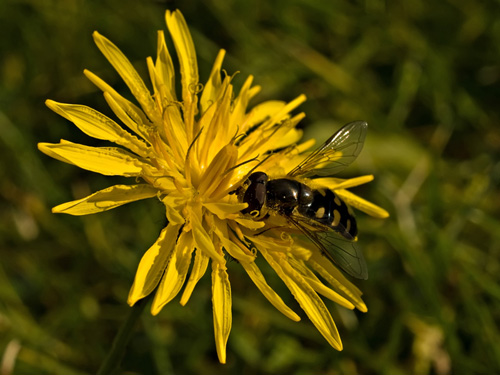 Taken with Olympus E500 digital camera September 30th 2007. Click image for larger view.
This is probably my last insect photo this year as the snow came to northern Norway today.
In this picture you can see a hoverfly (not sure about the species) feed on an autumn hawkbit (Leontodon autumnalis var. taraxaci) flower. This flower looks a bit like coltsfoot, but autumn hawkbit flowers, like the name implies, in the autumn.
I'm starting to get a collection of pictures of hoverflies feeding on flowers. Here are a few pictures:
Information about the picture:
Camera: Olympus E-500 digital SLR camera
Exposure: 0.006 sec (1/160)
Aperture: f/11
Focal Length: 35 mm
ISO Speed: 200
Lens: Olympus Zuiko Digital 35mm F3.5 Macro
Location: Laupstad (Andørja), Troms in northern Norway