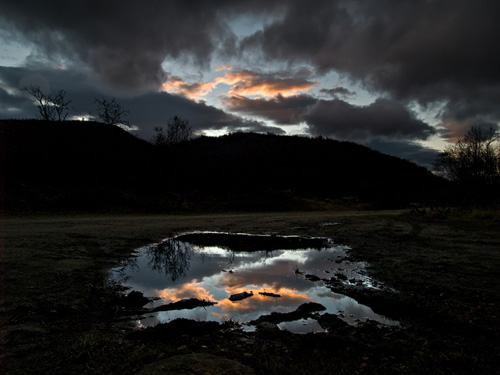 Taken with Olympus E500 digital camera October 21st 2007. Click image for larger view.
I found the reflection in the puddle, of the the sunset clouds, to be very beautiful. The reflection looks even more beautiful than the real clouds. A simple puddle can create nice pictures if you use your imagination 🙂
The weather has been very bad the last few days here in northern Norway so I welcomed this opportunity to photograph the small opening in the heavy layers of clouds. Maybe I should go outside and photograph the bad weather?
Information about the picture:
Olympus E-500 digital SLR camera
Exposure: 0.04 sec (1/25)
Aperture: f/11
Focal Length: 11 mm
ISO Speed: 100
Lens: Olympus Zuiko Digital 11-22mm F2.8-3.5
Location: Ånstadbotn (Andørja), Troms in northern Norway