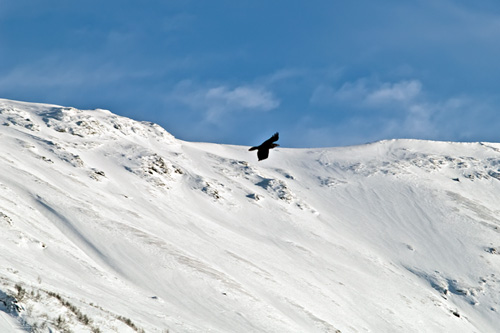 Taken with Olympus E500 digital camera February 24th 2007. Click image for larger view.
In this photo I was lucky enough to catch the raven when it was divided between the blue sky and the snowy mountain. The raven was flying very fast so it was only luck on my side 🙂
Currently the sun have disappeared here in Northern Norway so I'm impatiently awaiting it's return so I can take more pictures like this. Going on photo trips when everything is grey and sleet comes down from the sky is not fun.
Check out my other raven photos of a raven sitting on a boatshed roof and a raven flying into "gods eye".

Information about the picture:
Olympus E-500 digital SLR camera
Exposure: 0.003 sec (1/400)
Aperture: f/7.1
Focal Length: 150 mm
ISO Speed: 100
Lens: Olympus Zuiko Digital 40-150mm F3.5-4.5
Location: Laupstad (Andørja), Troms in northern Norway