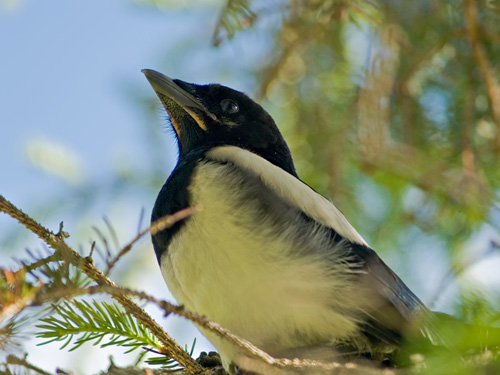 Taken with Olympus E500 digital camera June 26th 2007. Click image for larger view.
In this picture you can see a young European magepie (Pica pica). This bird had just come out of its nest. It was not the slightest afraid of humans and thus I was able to get very close to take some photos.
The magpies are plentiful here in Northern Norway and are known to steal shiny objects like glasses or silverware. Not sure if there is any truth to this or maybe it is just a legend?
Here is some other bird photos.

Information about the picture:
Camera: Olympus E-500 digital SLR camera
Exposure: 0.003 sec (1/320)
Aperture: f/4.5
Focal Length: 150 mm
ISO Speed: 100
Lens: Olympus Zuiko Digital 40-150mm F3.5-4.5
Location: Laupstad (Andørja), Troms in Northern Norway