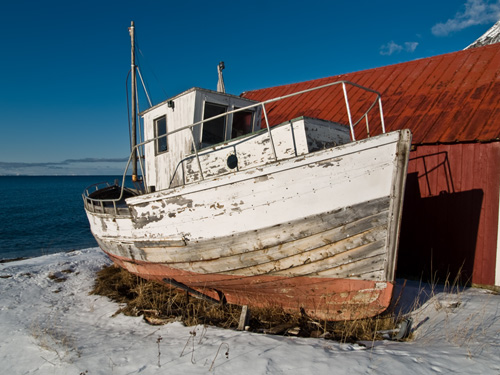 Taken with Olympus E500 digital camera March 7th 2008. Click image for larger view.
Old Norwegian fishing boats made out of wood is one of my favorite objects to photograph. In this picture you can see a fishing boat that haven't been on the ocean for many years. It is kind of sad to see it decaying away and not being used for fisheries. Maybe one day someone will restore the boat and bring it back to the ocean where it belongs. If I only had the crafting skills..
Check out this picture of another old fishing boat on land where I have added "lomography" effect. Follow Photos from Northern Norway on Facebook.

Information about the picture:
Camera: Olympus E-500 digital SLR camera
Exposure: 0.004 sec (1/250)
Aperture: f/11
Focal Length: 14 mm
ISO Speed: 100
Lens: Olympus Zuiko Digital 11-22mm F2.8-3.5
Location: Ånstad (Andørja), Troms in Northern Norway