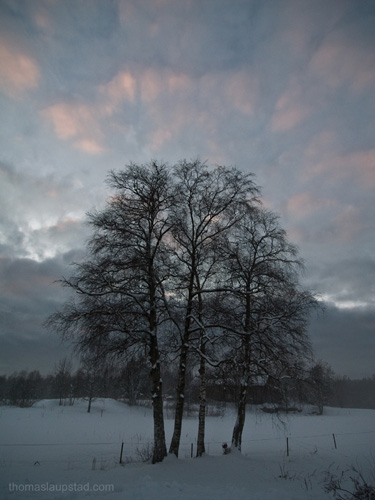 Taken with Olympus E500 digital camera January 26th 2009. Click image for larger view.
We have had a lot of gray weather lately so there hasn't been many photo opportunities, but the other day there was some colored clouds in the sky in the evening. I had to take out the camera and photograph these birch trees with the clouds as background. Also notice the cold mist behind the winter trees.
I recommend that you click on the picture to view it large to get a better perspective of the wide angle (11mm).
Check out my other winter photos here.
You can follow me on Twitter: http://twitter.com/jungl

Information about the picture:
Camera: Olympus E-500 digital SLR camera
Exposure: 0.01 sec (1/100)
Aperture: f/6.3
Focal Length: 11 mm
ISO Speed: 200
Lens: Olympus Zuiko Digital 11-22mm F2.8-3.5
Location: Fjellstrand in Nesodden, Akershus in southeast of Norway