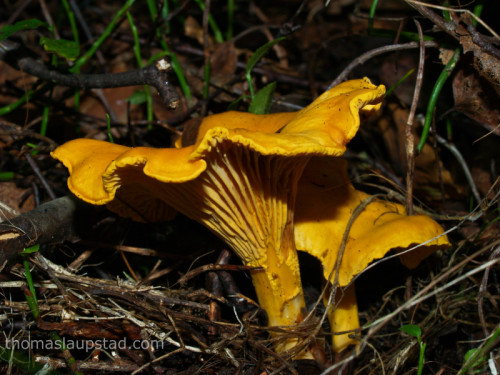 Taken with Olympus E500 digital camera September 18th 2008. Click image for larger view.
Here I have photographed some delicious Golden chanterelles (Cantharellus cibarius). They are the most well known edible mushroom here in Norway and is probably the most exclusive mushroom too.
You can use Golden chanterelles in a lot of different dishes, but I prefer to eat them plain after some minutes on a hot plate with a pinch of salt and maybe some organic sour cream. It is absolutely yummy!
This year we have found a lot of edible mushrooms in the forest so stay tuned for more mushroom pictures. It is very nice to be able to gather edible food from the nature, but it is also a bit scary to gather mushrooms as there are so many toxic ones. I use a rule for gathering mushrooms: If I am not certain I wont eat them! I can also enjoy the meal much better if I know that the mushrooms that I'm eating is safe. If you want to look at a mushroom that is toxic, take a look on my photo of a fly agaric (Amanita muscaria) fungus.
Here is another picture of Golden chanterelle. They are a bit dirty, but fully eatable and I must say I enjoyed eating them. A lot! 🙂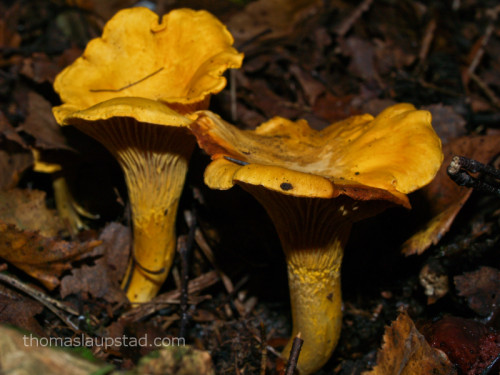 Taken with Olympus E500 digital camera September 18th 2008. Click image for larger view.
Note: These photos were taken in the southeastern part of Norway.

Information about the picture:
Camera: Olympus E-500 digital SLR camera
Exposure: 0.006 sec (1/160)
Aperture: f/11
Focal Length: 35 mm
ISO Speed: 200
Flash used
Lens: Olympus Zuiko Digital 35mm F3.5 Macro
Location: Fjellstrand in Nesodden, Akershus in southeast of Norway