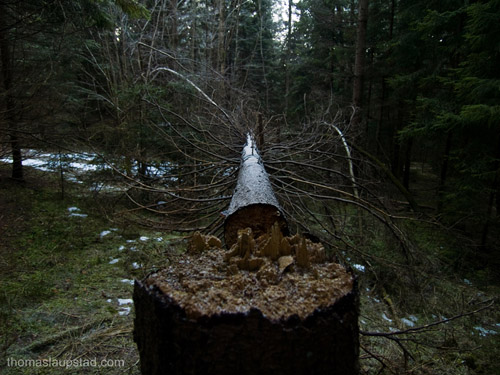 Taken with Olympus E500 digital camera January 1st 2009. Click image for larger view.
When I was walking in the forest I came across a Norwegian Spruce (Picea abies) tree that was broken and I liked the view with the trunk looking at the fallen tree. It seems like a strong wind had passed through the forest and snapped the tree in two. There was several trees in that area that had been toppled over some years ago (the vegetation had started to grow back) so it was a cool area to explore.
I had to climb up some trees to get this picture and I almost fell down several times ;). I think the broken tree picture got somewhat of a dark, eerie feeling to it. What do you think?
Check out this photo of my own Narnia forest and my other photos of trees here and my .

Information about the picture:
Camera: Olympus E-500 digital SLR camera
Exposure: 0.02 sec (1/50)
Aperture: f/2.8
Focal Length: 11 mm
ISO Speed: 200
Lens: Olympus Zuiko Digital 11-22mm F2.8-3.5
Location: Fjellstrand in Nesodden, Akershus in southeast of Norway