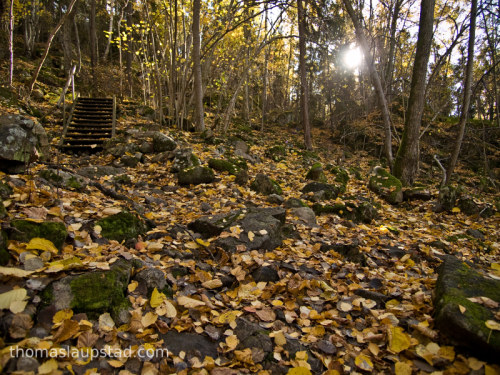 Taken with Olympus E500 digital camera October 19th 2008. Click image for larger view.
Autumn brings us some fantastic colors to photograph. Here is a picture from a walk I had in the forest yesterday. Some places the forest the ground was completely covered with yellow leaves. It was so beautiful and of course I had to take some pictures.
I like how the sun shines through the treetops and the wooden stairs to the left, add more interestingness to the picture. The wooden stairs have been built on this wood track to help people at the steepest parts in the forest.
Feel free to click on the picture to view it in large size to see more details.
Check out this photo from last year of a stream covered with autumn colored leaves.

Information about the picture:
Camera: Olympus E-500 digital SLR camera
Exposure: 0.006 sec (1/160)
Aperture: f/2.8
Focal Length: 11 mm
ISO Speed: 100
Lens: Olympus Zuiko Digital 11-22mm F2.8-3.5
Location: Fjellstrand in Nesodden, Akershus in southeast of Norway