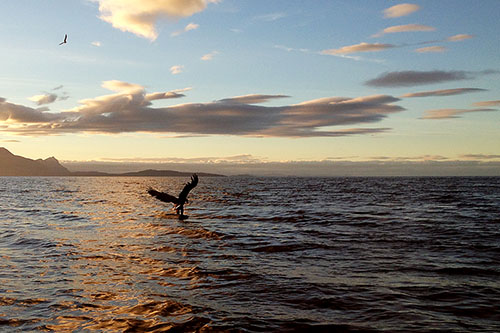 Taken with Apple iPhone 5 camera 26th September 2013. Click image for larger view.
Today when I was out fishing I got a visit from a couple of white-tailed eagles (Haliaeetus albicilla). I had thrown a small fish overboard that they really wanted to catch. In the picture above you can see the majestic bird trying to get this fish. I really wish I had brought a proper camera with me, but the photo from the phone actually turned out pretty good.
The white-tailed eagle is very common in Northern Norway, and we have the biggest eagle population in the world along the coast of Northern Norway. The bird is very big (for comparison see the seagull in upper left corner of the picture) with up to 2.45 m wingspan. The eagle feed on fish, but it can also catch other birds and mammals. Whenever all seagulls take flight at once, you can be sure there is a white-tailed eagle around.
You can see other bird photos here.
Like this photo? Please follow Photos from Northern Norway on Facebook.
Information about the picture:
Camera: Apple iPhone 5
Exposure: 0.001 sec (1/695)
Aperture: f/2.4
Focal Length: 4.1 mm
ISO Speed: 50
Location: Laupstad (Andørja), Troms in Northern Norway