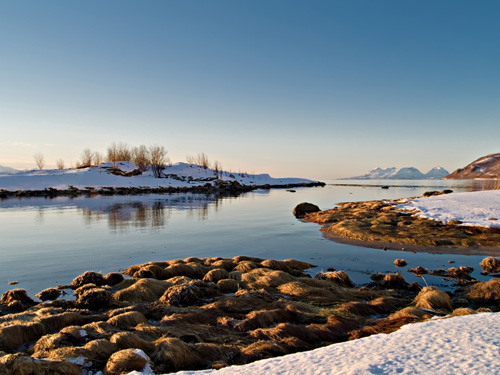 Taken with Olympus E500 digital camera March 9th 2007. Click image for larger view.
I took this photo back in March when the landscape was filled with snow and everything was quiet. The sun was about to set and you can see the very special light that occur when the days are so short.
In northern Norway we don't often experience such nice weather in March. Earlier that day I took advantage of the good weather and went out fishing. You can see a photo from the fishing trip here.
Information about the picture:
Camera: Olympus E-500 digital SLR camera
Exposure: 0.008 sec (1/125)
Aperture: f/7.1
Focal Length: 16 mm
ISO Speed: 100
Lens: Olympus Zuiko Digital 14-45mm F3.5-5.6
Location: Laupstad, Andørja (Ibestad) in northern Norway