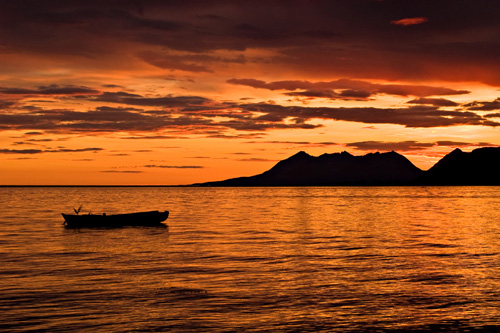 Taken with Olympus E500 digital camera on July 30th 2007. Click image for larger view.
I took this picture of the beautiful sunset back in July when the weather was warmer here in northern Norway. Been very chilly here lately so I wanted to see a reminder of warmer times 🙂
Notice the tern that is about to land on the rowboat. It was a bit stressing to capture the tern exactly when it was landing.
Here is a sunset photo from the same evening.
Information about the picture:
Camera: Olympus E-500 digital SLR camera
Exposure: 0.04 sec (1/25)
Aperture: f/11
Focal Length: 51 mm
ISO Speed: 100
Lens: Olympus Zuiko Digital 40-150mm F3.5-4.5
Location: Ånstad, Andørja (Ibestad) in northern Norway