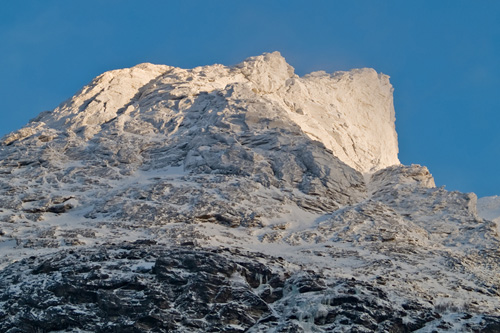 Taken with Olympus E500 digital camera January 31st 2008. Click image for larger view.
In this picture you can see the first sunlight here in Northern Norway this year, shining on a 1000 meter tall mountain peak. I loved the way the fresh snow on the top made the mountain peak look like it was made of white bricks.
If you click on the picture and look at it in large format you can see some enormous icicles hanging from the side of the mountain.
Check out this picture to see the mountain peak in full size.

Information about the picture:
Camera: Olympus E-500 digital SLR camera
Exposure: 0.006 sec (1/160)
Aperture: f/6.3
Focal Length: 65 mm
ISO Speed: 100
Lens: Olympus Zuiko Digital 40-150mm F3.5-4.5
Location: Å (Andørja), Troms in Northern Norway