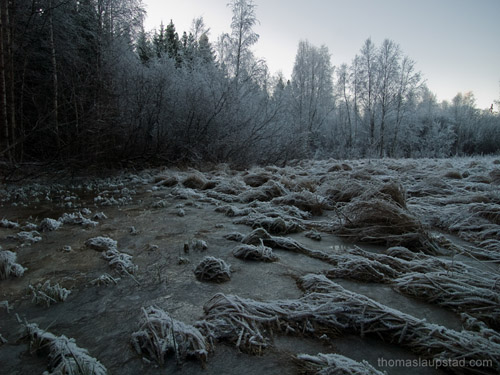 Taken with Olympus E500 digital camera January 1st 2009. Click image for larger view.
I was out walking in the forest early today and I came across this field that was frozen. I really enjoyed all the grass that had frozen in the water and the trees standing around the field covered with rime.
We are having a cold period with -12C so everything outside is covered with frozen water and gives me a lot of photo opportunities.
Happy new year everyone! My resolution for 2009 is to take way more pictures and post them on this blog as I have lately been a bit lazy when it comes to photography. Don't miss the Photos from Northern Norway 2009 calendar and my other photos with ice.

Information about the picture:
Camera: Olympus E-500 digital SLR camera
Exposure: 0.01 sec (1/100)
Aperture: f/7.1
Focal Length: 11 mm
ISO Speed: 200
Lens: Olympus Zuiko Digital 11-22mm F2.8-3.5
Location: Fjellstrand in Nesodden, Akershus in southeast of Norway